Woman in Blue Reading a Letter, and Tomas Tranströmer, Vermeer
Jožef Muhovič

Academy of Fine Arts and Design, University of Ljubljana, Slovenia

Vid Snoj

Department of Comparative Literature and Literary Theory, Faculty of Arts, University of Ljubljana, Slovenia
References
BERGSTEN, S. (1990): "To Go through the Walls: Tomas Tranströ-mer's 'Vermeer'", World Literature Today 64/4, 582–590.
DENIS, M. (1922) : "Définition du Néo-traditionalisme ", v : Théories, 1890-1910. Du symbolisme et de Gauguin vers un nouvel ordre clas-sique, Pariz, Bibliothèque L'Occident, 1–12.
FOUCAULT, M. (2009): Manet and the Object of Painting (ang. prev.), London, Tate Publishing.
HEGEL, G. W. F. (1986): Vorlesungen über die Ästhetik 3, v: isti, Werke 15, ur. Eva Moldenhauer in Karl Markus Michel, Frankfurt ob Majni, Suhrkamp.
PROUST, M. (1995): Ujetnica (slov. prev. Radojka Vrančič), Ljubljana, DZS.
VERSLYPE, I. (2012): "The Restoration of Woman in Blue Reading a Letter by Johannes Vermeer", Rijksmuseum Bulletin 60/1, 2–19.
WEBB, R. (2009): Ekphrasis, Imagination and Persuasion in Ancient Rhetorical Theory and Practice, Farnham, Ashgate.
WHITE, J. B. (2003): The Edge of Meaning, Chicago, Chicago Uni-versity Press.
WINN AINSWORTH, M., et al. (1982): Art and Autoradiography. Insights into the Genesis of Paintings by Rembrandt, Van Dyck, and Vermeer, New York, The Metropolitan Museum of Art.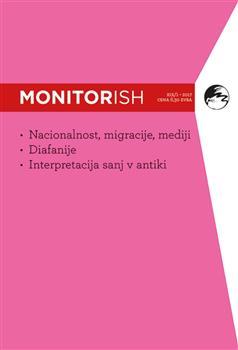 How to Cite
Muhovič, J., & Snoj, V. (2017). Woman in Blue Reading a Letter, and Tomas Tranströmer, Vermeer. Monitor ISH, 19(1), 155-182. https://doi.org/10.33700/1580-7118.19.1.155-182(2017)