Russian Revolution through the Prism of Srečko Kosovel's World View and His Poetry
Manca Erzetič

Faculty of Arts, Department of Philosophy, University of Ljubljana
Keywords:
Russian revolution, Srečko Kosovel, ideology, totalitarianism, Slovenes, culture
Abstract
The article deals with the influence of the Russian Revolution as evidenced in Srečko Kosovel's intellectual and poetic creativity. Multifaceted and complicated, this influence includes socio- critical, cultural-reflexive, aesthetic and poetological aspects. Of key importance is Kosovel's preoccupation with the crisis of humanity in the historical situation of Europe and of the world in general after the end of the First World War, which affected both individual and community, both worker and nation. While the Russian revolution undoubtedly led Kosovel to believe that the world could become more humane, he cannot be considered a 'believer of the revolution' in the sense of adherence to revolutionary ideology. In his view, the role of creating a 'New Humanity' definitely belonged to art.
References
ARENDT, H. (2003): Izvori totalitarizma, Ljubljana: Študentska založba.
ERZETIČ, M. (2010): Neevropski vplivi na poezijo Srečka Kosovela (Vpliv Rabindranatha Tagoreja), Nova Gorica: UNG.
https://www.etymonline.com/word/revolution;
http://www.fran.si/193/marko-snoj-slovenski-etimoloskislovar/4291356/revolucija?FilteredDictionaryIds=193&View=1&Query=revolucija. (Dostop: 27.5.2018.)
FELMAN, SH. (1992): Testimony: Crises of Witnessing in Literature, Psychoanalysis and History, New York and London: Routledge.
HOBSBAWN, E. (2000): Čas skrajnosti. Svetovna zgodovina 1914- 1991, Ljubljana Sophia.
JOVANOVSKI, A. (2005): "Kosovelovi konsi: nelahko ravnotežje med subjektom in družbo", Kosovelova poetika, posebna števila revije Primerjalna književnost, 28, 91–102, 225–238.
KERMAVNER, D. (1967), "Oktobrska revolucija in Slovenci", v: Oktobrska revolucija in Slovenci. Nacionalno vprašanje v Jugoslaviji v teoriji in politiki KPJ – KPS, Prispevki za zgodovino delavskega gibanja VII/1-2 (1967), 1057–1080.
KOS. J. (1986): "Slovenska literatura in zgodovinska avantgarda", Slavistična revija, 34, 248–257.
KOSOVEL, S. (1964). Zbrano delo 1, Ljubljana: DZS.
KOSOVEL, S. (1974):. Zbrano delo 2, Ljubljana: DZS.
KOSOVEL, S. (1977): Zbrano delo 3/1, Ljubljana: DZS.
PAHOR, B. (2008); Srečko Kosovel: pričevalec zaznamovanega stoletja, Ljubljana: Znanstvena založba Filozofske fakultete Univerze v Ljubljani.
PIPES, R. (2013): Kratka zgodovina ruske revolucije, Ljubljana : Študentska založba, 2013.
PONS, S. (2017) Svetovna revolucija. Zgodovina mednarodnega komunizma: 1917–1991, Ljubljana: Sophia.
RABINOWICH, A. (2017): Boljševiki prihajajo na oblast. Revolucija leta 1917 v Petrogradu, Ljubljana: Sophia.
ROJC, T. (2007): Mon cher ami – DRAGI SREČKO … Neobjavljena pisma Srečku Kosovelu, Gorica: Goriška Mohorjeva družba.
VREČKO, J. (1986): Srečko Kosovel, slovenska zgodovinska avantgarda in zenitizem. Maribor: Obzorja.
VREČKO, J. (2014): Konstruktivizm i Kosovel. Moskva: Centr knigi Rudomino.
ZADRAVEC, F. (1968): Oktobrska revolucija in slovenska literatura, Murska sobota: Pomurska založba.
ZADRAVEC, F. (1986): Srečko Kosovel (1904-1926). Koper, Trst: Lipa in Založništvo tržaškega tiska.
ZADRAVEC, F. (1986): Slovenska ekspresionistična literatura, Murska Sobota, Ljubljana: Pomurska založba in Znanstveni inštitut Filozofske fakultete Univerze v Ljubljani.
STALIN, I. V. (1948). Vprašanje leninizma. Ljubljana: CZ.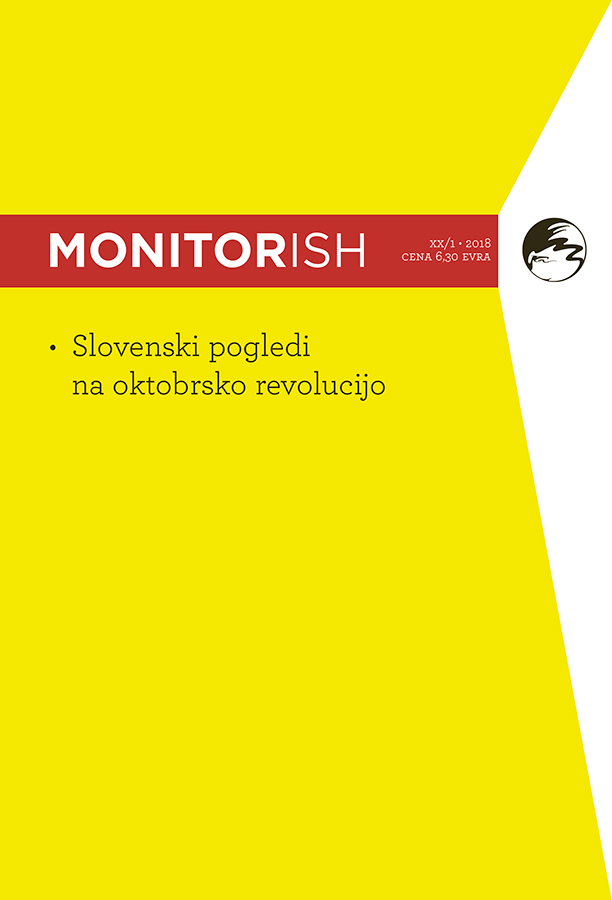 How to Cite
Erzetič, M. (2018). Russian Revolution through the Prism of Srečko Kosovel's World View and His Poetry. Monitor ISH, 20(1), 123-137. https://doi.org/10.33700/1580-7118.20.1.123-137(2018)